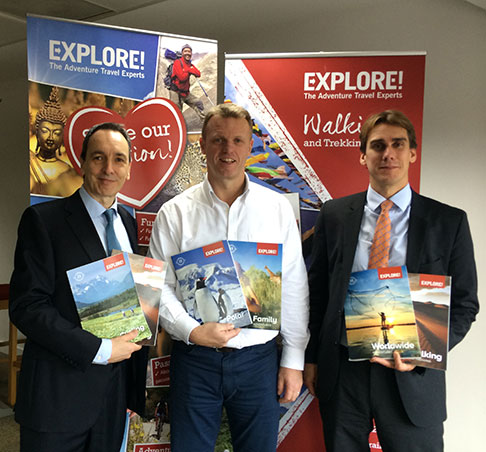 L-R: Andy Perrin (CEO, Hotelplan UK), Ashley Toft (MD, Explore Worldwide) & Andrew Stewart (CFO, Hotelplan UK).
Hotelplan UK Group acquires Explore Worldwide and Regaldive
The acquisition by Hotelplan UK of escorted adventure tours specialist Explore Worldwide and its sister company Regaldive from their parent company Holidaybreak Group was announced today, for an undisclosed sum.
Explore has operated small group adventure holidays since 1981, with currently over 500 tours available across 120 countries on all seven continents. A highly experienced team in their Farnborough head office, award winning Tour Leaders, and a passionate commitment to responsible travel are the hallmarks of the company, which has been part of the Cox & Kings' owned Holidaybreak Group since 2000.
Regaldive was founded in 1988 and is one of the UK's leading specialist diving tour operators. The company is based in Ely and offers both liveaboard and resort based holidays for beginners and experienced divers to Europe, the Red Sea, the Caribbean, Indian Ocean and Far East.
At Hotelplan UK, the two companies join the Group's existing portfolio of activity and experience holiday companies, which includes Inghams (whose range comprises Ski, Lakes & Mountains, Lapland and specialist Italy holidays), family skiing market leader Esprit Holidays, chalet specialist Ski Total, Santa's Lapland short breaks, and self-guided walking and cycling experts, Inntravel. Holidaybreak's decision to sell the businesses is a reflection of the increased focus on its rapidly expanding high growth education, hotel/hostel and mainstream leisure assets.

Hotelplan UK's CEO, Andy Perrin, commented: "We are thrilled to welcome two such highly respected companies to our existing family of specialist travel brands. Hotelplan UK has a strong tradition of excellence and high standards of quality and service, so as successful, growing businesses with tremendous customer loyalty and highly experienced teams with incredibly deep product expertise, both Explore and Regaldive fit perfectly with the overall philosophy, direction and ambition of the Hotelplan Group."
Explore MD, Ashley Toft, noted: "It is an exciting time for all of us at Explore, with both our own company and the wider adventure travel sector growing fast. We are looking forward to joining forces with the enthusiastic team of like-minded travel people at Hotelplan."
Regaldive Director, Andreas Elia, added: "Regaldive's' mission has always been to provide holiday options for divers to some of the leading destinations around the world. I look forward to seeing our business continue to prosper as part of the Hotelplan Group."
Commenting for Holidaybreak Group, Peter Kerkar CEO observed, "Our decision to sell Explore is undertaken following strong interest in its acquisition by trade buyers. We recognize that the continuation of its recent strong performance will be best facilitated by a dedicated tour operating group such as Hotelplan UK. We wish the management team and employees every success for the future."

No personnel or location changes are planned, and Explore Worldwide and Regaldive will continue to operate from their current offices in Farnborough in Hampshire and Ely in Cambridgeshire respectively, under the continued leadership of Ashley Toft at Explore and Andreas Elia at Regaldive.
=================
Ends / 1st December 2015
=================
Further press information from Jo Hartley at Hills Balfour: Direct line 0207 593 1717 / Mobile 07872 600 105 / Email JoH@hillsbalfour.com
Or to contact Hotelplan UK directly: Andy Perrin: Mobile 07974 929 199 / Email andy.perrin@hotelplan.co.uk
or Louise Newton, Group Head of Marketing: 01483 791 049 / louise.newton@hotelplan.co.uk
For further company and product information, see:
www.explore.co.uk
www.regal-diving.co.uk
www.inghams.co.uk
www.espritski.com
www.skitotal.com
www.inntravel.co.uk
www.santaslapland.com