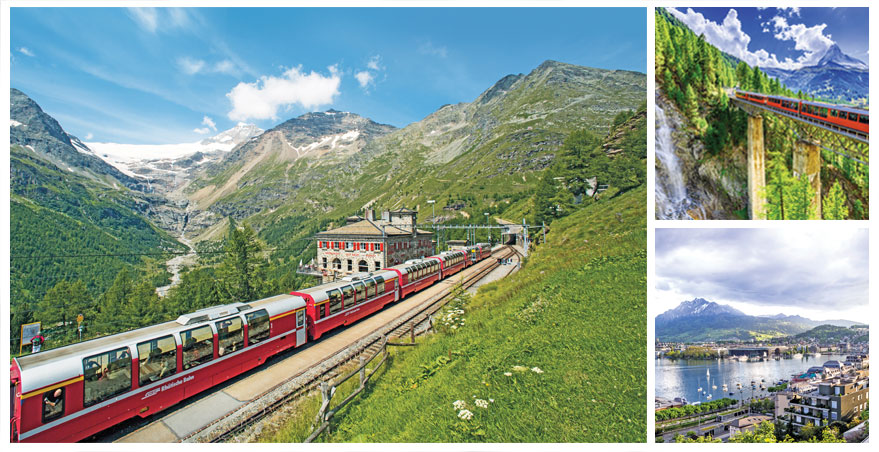 For more information or to book our Twin Centre Holidays & Tours please call 01483 79 11 11
Escorted by an experienced Inghams guide, this 9 or 11-night tour is an excellent overview to Switzerland's special highlights, designed for those seeking a true taste of this stunning country, including unforgettable experiences on two of the most spectacular panoramic journeys in the world, the 'Bernina' and 'Glacier Express'. Travelling as part of a small group from 18-25 guests the beautiful lakeside setting of world-famous St. Moritz through to the 'Matterhorn village' of Zermatt, and then the dramatic scenery of Grindelwald in the Bernese Oberland. Guests have the option of continuing their tour to Lake Lucerne with its pedestrianised Old Town and nearby Mount Pilatus. Amongst the highlights are a day excursion on the spectacular 'Bernina Express' train from St. Moritz to Poschiavo near the Italian border, and the rail journey from St.Moritz to Zermatt on the 'Glacier Express' where we have arranged for you to enjoy lunch on board. Each of your transfers are by 1st class rail, and your luggage is transported for you between each resort, so all you need to do is sit back and admire the scenery. With a half-fare travel card for reductions on Switzerland's superb transport network also included, you have plenty of opportunity to explore, cruise, hike, or simply relax in four of Switzerland's contrasting 'Cantons'.
Itinerary
Day 1 (Saturday)
Transfer from Zurich airport to the stylish resort of St. Moritz in the Engadine valley (approx. 3 3/4 hours). Check into your hotel and meet your escorting guide. During your 3 night stay in St. Moritz, you have the opportunity to cool off in one of the region's lakes, or take a day hike to Corvatsch or Corviglia for 360° views of the splendid Graubünden scenery, with its glacier and shimmering lakes – guests have FREE use of resort lifts included. The town offers plenty to entertain with gentle strolls down the main promenade, browsing the shops or for a delicious hot chocolate in one of the cafés.
Day 2 (Sunday)
Embark on the spectacular 'Bernina Express' panoramic train from St. Moritz for a day trip with seats reserved in 1st class, down to Poschiavo near the Italian border. Part of the Rhätian railway, this winding mountain route is protected as a UNESCO world heritage site for its outstanding natural beauty. Reaching 2253m, passing through 55 tunnels, and crossing almost 200 bridges along the way, the train takes you 'from mighty glaciers to swaying palm trees' all in one day. You will have time to enjoy a stroll or lunch in Tirano town before your return journey.
Day 4 (Tuesday)
Depart St. Moritz on the famous 'Glacier Express' train to the mountain village of Zermatt (approx. 8 hours). We have reserved a 1st class seat for you and lunch is also included on board this red and white train. Panoramic scenery changes as the route unfolds, meadows give way to dense forests and tall dramatic mountains that can be snow-capped depending on the season. You'll witness Switzerland's most stunning mountainscapes and hidden gems as you pass through valleys and gorges, over bridges and beside lakes and glaciers.
Day 5 (Wednesday)
During your 3 night stay in Zermatt, enjoy the traditional Swiss ambience. Take a walk through the enchanting traffic-free streets, discovering the many shops and cafés and explore the old part of the village home to more than 30 buildings constructed in the traditional style of the barns and stores. 21 mountain cable cars, cog railways and gondolas open up the vast hiking network and guests can enjoy a journey of the iconic Gornergrat railway and marvel at the backdrop of the Matterhorn.
Day 7 (Friday)
Depart Zermatt travelling via Brig and the Loetschberg tunnel to Spiez then along the shores of Lake Thun and onto the 'Eiger village' of Grindelwald in the Bernese Oberland. There are excellent hiking opportunities here, with easy access from the village via cable-car or mountain train to the vast Jungfrau region. Visit the neighbouring resorts of Wengen or Mürren, head to Europe's highest train station, the Jungfraujoch. Interlaken with its lakes Thun and Brienz, is also within easy reach.
Day 10 (Monday)
Transfer back to Zurich airport for your return journey home (approx. 3 hours) or continue on to Lake Lucerne for an extended two nights' stay. Your guide will bit you a farewell as you'll be free to spend your time at leisure safe in the knowledge the Inghams Lucerne Resort Representative is only a phone call away.
Day 11 (Tuesday)
Take a boat ride on the lake, visiting the places immortalized in Schiller's 'William Tell' play. Or head to the top of Mount Pilatus or Mount Rigi, for superb views, and explore the quaint traffic-free streets of the old town, lined with frescoed buildings and historic monuments.
Day 12 (Wednesday)
Transfer back to Zurich airport for your return journey home (approx. 1 hour)

1ST CLASS UPGRADE ON ALL YOUR RAIL TRANSFERS INCLUDED
EARLY BOOKING OFFER SAVE up to £120 per couple whilst stocks last! This discount has automatically been included in the price shown.
What's included
Discount travel card included, worth over £100
Day excursion on the spectacular 

Bernina Express

 train from St. Moritz to Tirano with reserved 1st class seats reservations
Reserved 1st class seats on the famous Glacier Express train from St. Moritz to Zermatt with 3 course lunch included
Scheduled return flights from the UK to Switzerland
1st class rail transfers within Switzerland (some change of trains required)
Services of an experienced Inghams tour guide from St.Moritz to Grindelwald
Free transport of one item of luggage per person between each resort from St. Moritz to Zermatt, Zermatt to Grindelwald, and Grindelwald to Lucerne (if applicable)
Excellent 4 star hotels, with full buffet breakfast and minimum 4 course evening meal in each hotel. All rooms with private facilities
Free use of local lifts when staying in St. Moritz
All optional excursions are bookable and payable locally via your escorting guide. Please note we do not accept children under 12 (or infants) on this tour.
Prices per person from (£) 2018
Swiss Classic Tour
Holiday Code
CHXX3053
CHXX3052
No. of nights
9 nights
11 nights
Jun 23
£2,159
£2,519
Jul 7
£2,199
£2,569
Jul 21
£2,219
£2,569
Aug 4
SOLD OUT
SOLD OUT
Aug 18
£2,139
£2,499
Sep 1
£2,149
£2,499
Supplements per person per holiday

PB or PS WC incl; Superior room (Lucerne) £82; Sgl PB or PS WC £162; Single room (Lucerne) £209


Sgl=Single, PB=Bath, PS=Shower, incl=included

Prices include flights, resort transfers and accommodation. Flight supplements may apply. Prices and supplements are correct at time of going on the website and may vary up or down at time of booking.
Transfers
from ZURICH: 3 3/4hr by rail
Flights

Gatwick
Heathrow
London City

Luton
Birmingham
Manchester

Rail from the UK
Travel from St Pancras, Ashford or Ebbsfleet
Please call our reservations team on 01483 79 11 11 to book this holiday
General Terms and Conditions: All prices, offers and availability are correct at time of publishing, are subject to change & availability and can be withdrawn at any time. All offers are for 7 nights unless otherwise stated. All prices are per person based on maximum occupancy of a room or apartment and on the lowest priced departure point, supplements for other flights/airports may apply. The late booking fee of £30 per person applies to late bookings made within 14 days of departure.