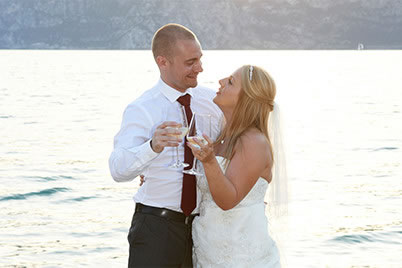 View or download our Inghams Weddings brochure here.


There are so many reasons why it's a great idea to marry abroad, from the more reliable weather to the excellent food and wine you can offer your guests, but most of all it's the stunning backdrop of a beautiful location and Inghams offers you a wonderful selection of locations in Italy and Austria.  
Inghams has nearly 80 years' experience as a tour operator and we are well known for our excellent customer service. It may seem a little daunting to organise your wedding abroad but our dedicated teams, both in the UK and overseas, will be on hand every step of the way to make sure that your special day is perfect.
Inghams Weddings - What's included
Each destination offers a selection of different wedding packages but the basic package in all of our destinations includes the following:
Civil wedding ceremony and town hall registry fees
All handling of administration and overseas documentation
Consular fees for the translation of the 'no impediment' certificate
Wedding license and international marriage certificate
Presence and translation at sworn declaration a few days prior to marriage
Interpreter at ceremony (as required by law)
Organising and paying for choice of wedding location
Advice and wedding coordination
Assistance during your stay – going over details so you feel happy and confident
Discreet presence during the wedding to make sure all goes smoothly


There are many optional extras that can be added to make the day exactly how you want it to be.

For more information, call our dedicated weddings co-ordinator on 01483 79 11 25 or e-mail: weddings@inghams.co.uk
Weddings in Italy
Italy has long been associated with love and romance, thus making it an ideal location in which to exchange your vows amidst picture perfect surroundings. Choose from the shimmering blue seas of the Neapolitan Riviera, the picturesque landscapes of Lake Garda or the magical city of Venice for your special day.
Weddings in Lake Garda
Lake Garda provides a magical backdrop for a wedding with soaring mountains in the north and a distinctly Mediterranean feel in the south. You can choose to exchange your vows in a variety of locations around the lake.

The medieval, fairytale castle of Maclesine is our most popular venue, not in small part due to the breathtaking views of the lake and surrounding mountains.

Torri del Benaco further down the shore and is a simply delightful little village, just right for your relaxed and charming wedding. The castle allows couples to celebrate their wedding anywhere in the grounds including the romantic lemon groves or even on top of one of the towers.
Weddings in the historic little town of Garda take place in the town hall, located on a small square just metres from the lakeside.
Weddings in Sorrento & Positano
For thousands of years Sorrento and the Amalfi Coast have been where people have flocked to enjoy the spectacular scenery and celebrate special occasions in the shadow of Mount Vesuvius. We offer two stunning wedding locations which both offer breathtaking views. Sorrento weddings are celebrated in the lovely, medieval San Francesco cloister and the Bay of Naples is a wonderful setting for your photographs.
Positano wedding hall is perched up high above this colourful town with views over the Mediterranean Sea.
Weddings in Venice
A wedding in Venice is really the thing that dreams are made of; a location that will remain in all your guests' memories for a lifetime. The ceremony takes place in the 16th century Palazzo Cavalli on the Grand Canal with views over the famous Rialto Bridge.
For details on Sorrento, Positano and Venice please see our Inghams Italy programme.
Weddings in Austria
Austria's beautiful Alpine Tyrol is a great choice for weddings – both in summer and in winter! In wintertime, the snow-capped peaks offer a gorgeous backdrop to your wedding photographs and you can enjoy the romance of being whisked through the snow on a horse-drawn sleigh.
In summertime, the scenery changes to green meadows with towering peaks and the pretty villages are filled with flowers.
Choose from two wedding venues in Zell am See - the stylish and elegant 4 star Hotel Heitzmann or the superior 4 star Romantikhotel close to the lake and boasting a wonderful garden.
In Ellmau, weddings are organised by the beautiful Hotel Hochfilzer.
Special Family and Friends Offer
Of course you will want to share your special day with your family and friends and we can take of their travel arrangements too. Take a group of 20 and the Bride can travel Free!
Weddings in Lake Garda - we are offering a free bridal bouquet and groom's buttonhole.
For full terms and conditions of special occasions including weddings, honeymoon and anniversary offers, please see our Lakes and Mountains terms and conditions page.