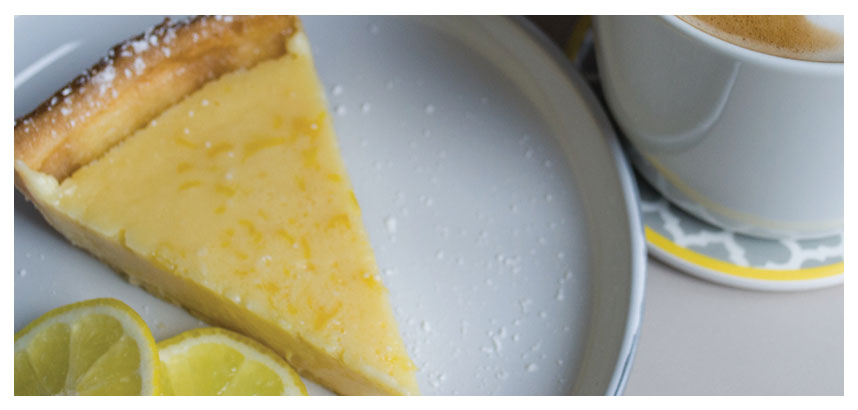 Fruit tarts of all types are a popular dessert in France, but nothing quite beats the tarte au citron – otherwise known as a lemon tart. It's believed to have originated in Menton in the French Riviera, as it was the only place in France capable of growing lemons.
The lemon tart has taken on a life of its own and has many varieties today. Sophie from Sophie Allan has shared her favourite lemon tart recipe.
For the pastry:
Ingredients
- 175g plain flour
- 100g unsalted butter, cubed
- 1 egg yolk
- 25g icing sugar
- ½ tbsp. water
Method
Put the flour, butter, and icing sugar into a large bowl, and combine with your hands until it resembles breadcrumbs. Add the egg yolk and water, and knead the mixture until it forms a ball.
Grease a tart tin with butter, and sprinkle a small amount of flour onto the base. Roll the pastry, and lay it across the tin. Using your hands, mould the pastry to the shape of the tin. Poke holes into the pastry using a fork, cover with cling film, and leave in the fridge for 30 minutes.
Preheat the oven to 200°C.
Once the pastry is cooled, remove the cling film and line with baking parchment. Fill with baking beans or rice, and blind bake (without the filling) for 10–12 minutes. Remove from the oven, remove the baking beans and parchment, and return to the oven for a further 10 minutes, or until golden.
Set to one side to cool.
For the lemon filling:
Ingredients
- 5 large eggs
- 125ml double cream
- 225g caster sugar
- 4 lemons, juice and zest
Method
In a large bowl, whisk the eggs, and add the double cream, caster sugar, and lemon juice and zest until totally combined. Pour the mixture into the tart until it fills the case almost to the top.
Bake for 30–35 minutes until the mixture has set but still wobbles slightly. Leave to cool completely.
Serve with a little icing sugar or melted dark chocolate.
You can download a PDF version of our Foodie Finds recipe book, which includes this recipe and other 'Alpine-Inspired' recipes.