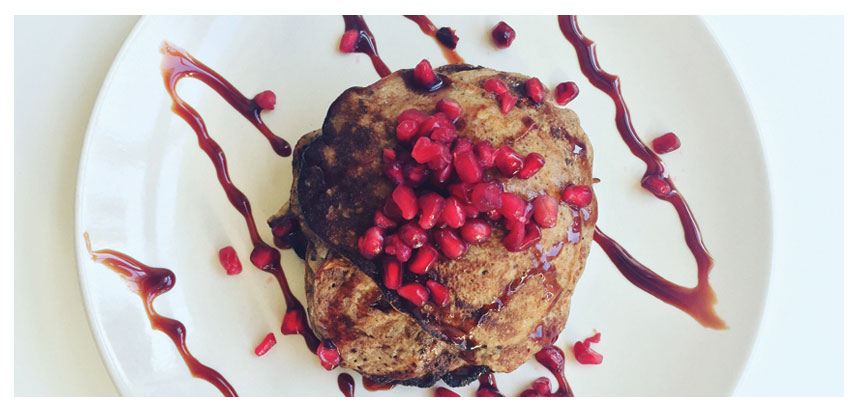 Crêpes, which are believed to have originated from Brittany in Northern France, are popular throughout Europe. They can be served simply with sugar, or adapted into complex gourmet desserts, including the famous crêpe Suzette, which is set alight!
Crêpes are made with dairy, so for lactose intolerant people, they might seem off-limits. Thankfully, Bryony of A Belly Full Off, has created her own dairy-free version of these treats, so everyone can enjoy the French delicacy.
Ingredients
- 3 eggs
- 2 bananas
- 1 tbsp. desiccated coconut
- 2 tsp. raw cacao powder
- 1-2 tsp. coconut oil
- Date syrup/maple syrup
- Pomegranate seeds
Method
Mash the bananas with a fork in a medium sized bowl, until as smooth as you can get them. Add the eggs, coconut and cacao powder and mix together into a batter.
Heat the oil in a frying pan on a mid-high heat, then add a small ladle of the mixture into the pan. Fry for 1–2 minutes on each side, until they begin to turn dark brown.
Serve immediately on a plate with date or maple syrup, and sprinkle pomegranates on top.
You can download a PDF version of our Foodie Finds recipe book, which includes this recipe and other 'Alpine-Inspired' recipes.