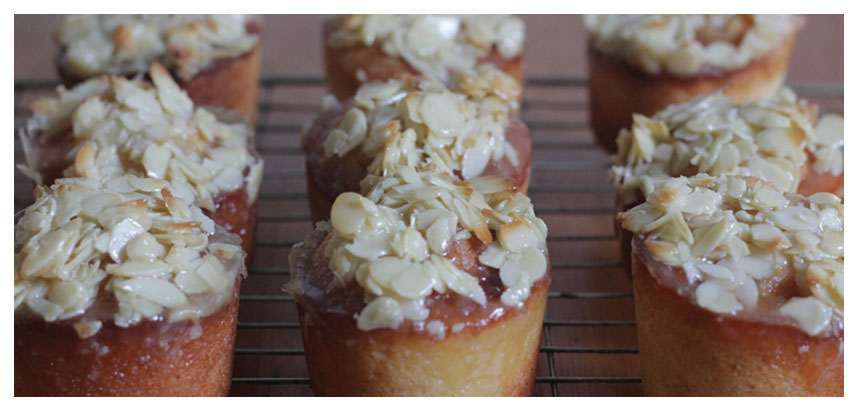 An age-old German dessert, bee-sting cake – or beinenstich – is the stuff of multiple urban legends. Whatever the origin of this cake, it's remained a staple of the German diet for centuries, and is typically filled with sweet cream, and topped with a crunchy honey-almond topping – perfect served with coffee.
Rosie from Tea and Cake Bakehouse has provided her own spin on this Germanic recipe, creating bitesize versions to be enjoyed whether you're at home or on the go.
For the sponge:
Ingredients
- 280g unsalted butter, softened
- 280g caster sugar
- Few drops of vanilla extract
- 4 eggs
- 280g self-raising flour
- Pinch of salt
- 2.5 tbsp. Greek natural yogurt
- 2 tbsp. honey
Method
Preheat the oven to 160°C, and line and grease a muffin tin.
Beat together the sugar, butter and vanilla in a large bowl, until fluffy and combined. Mix all dry ingredients together in a separate bowl.
Add the eggs to the butter and sugar mixture until smooth, then fold the dry mixture into the wet mixture. Fold the honey, and then the yogurt, into the cake batter.
Spoon the mixture into the tray, and bake for 20 minutes.
For the topping:
Ingredients
- 85g unsalted butter
- 65g caster sugar
- 2 tbsp. honey
- 25ml double cream
- 225g flaked almonds
Method
Heat everything but the almonds in a small pan until melted, and combine over a low heat for one minute. Remove from the heat and stir in the almonds. Allow the mixture to cool slightly.
Spoon a tablespoon of the honey mixture onto each of the cakes while still hot, then return to the oven for 5–7 minutes, or until the flaked almonds are beginning to brown.
Allow to cool in the tin, and serve with custard or crème fraiche.
You can download a PDF version of our Foodie Finds recipe book, which includes this recipe and other 'Alpine-Inspired' recipes.