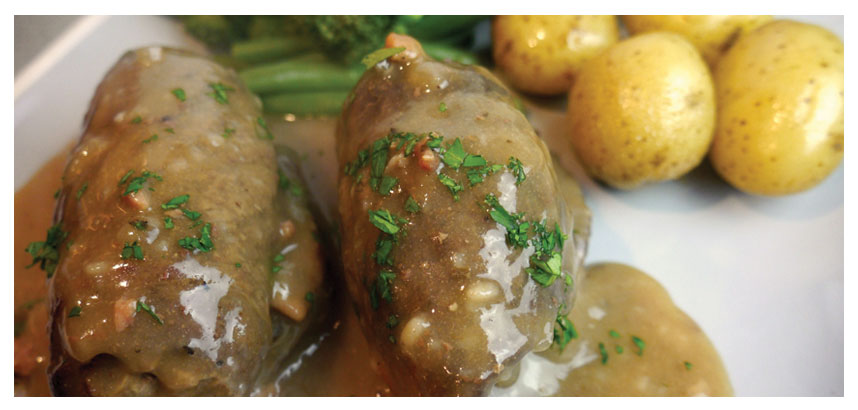 Meaty German rouladen – known in German as rinderrouladen – began as a pork or venison dish, due to the wide availability of the meat. As it has developed and changed over time, beef or veal has become much more popular, and is usually served with potatoes and pickled red cabbage.
Providing a spin on the German classic is Emmie from Carpe Diem Emmie and her partner Jordan. Emmie and Jordan feel this dish is an excellent alternative to a traditional Sunday roast, making it a great choice for anyone looking to mix things up.
Ingredients
- 4 chuck steaks
- Dijon mustard
- 4 slices bacon, diced
- 1 white onion, diced
- 500ml beef stock
- 1 cup plain flour
- 1 bay leaf
- 2 tsp. paprika
- 2 tsp. sage
- Salt and pepper
- Fresh parsley, diced
Method
Pound the steaks until they are about ¼ inch thick. Spread 2 tsp Dijon mustard on one side of each steak, and sprinkle with salt, pepper, and paprika.
Mix the onion, bacon, and sage together in a large bowl, and spoon on top of each of the steaks. Roll the steaks to contain the mixture, and secure with toothpicks or cooking twine.
Heat olive oil in a large pan, and cook the steak until browned all over. Submerge the meat with the stock, adding water if needed to ensure they're fully covered. Bring to the boil, then reduce to a simmer and cook for around 45 minutes.
Once the steak has cooked through, remove from the pan of stock. Mix flour and water in a measuring jug and stir into a smooth paste. Add this to the pan, bring to the boil, and stir continuously until a rich, thick gravy develops.
Add the steak back into the pan, turn off the heat and cover with a pan lid. Once the meat has warmed through with the gravy, serve immediately.
You can download a PDF version of our Foodie Finds recipe book, which includes this recipe and other 'Alpine-Inspired' recipes.