FIND YOUR INGHAMS ADVENTURE!
We've been providing unforgettable holiday experiences for over 80 years. Whether you're a loyal customer or have never booked with us before, let us take you on an Inghams adventure….
This is Inghams
Founder Walter Ingham was inspired to start the company because of his deeply-held love for skiing, mountaineering and walking. Today, his spirit lives on thanks to the dedication of every member of the Inghams team. As one of the UK's most experienced specialist tour operators our resort knowledge and customer service is second to none - that's why so many choose to book with us again and again.
Walter Ingham
Inghams was born out of Walter Ingham's enduring passion for ski, mountaineering and walking, Ingham has long been credited as the man who took Britain skiing and he operated very successfully for 28 years.
Best Adventure
& Activity Operator
Best Royal Heritage
Tour Operator
Best for
Lakes and Mountains

Winner Best
Tour Operator

Experiences
worth rewarding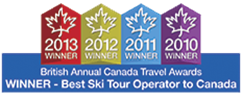 Experiences
worth rewarding

Really great holiday. Looking to book for 2018 already! Thank you.
Finding your best holiday options...