Experience the magic of Lapland with our special 85th anniversary offer - book now and receive £85* off (or pay just £85 for children) the 'Big Three' excursions in resort; the Husky Safari, Reindeer Safari and Snowmobile Safari for 7 night holidays to Lapland departing in January & February 2020 and selected December 2019 dates.
A Lapland holiday is not complete without at least one winter activity – and preferably all of them! For over 20 years, Inghams has worked closely with local tour operators to ensure our guests receive the best value winter safaris and excursions in Lapland. We're offering the chance to experience each of the 'Big Three' safaris: reindeer, husky, and snowmobile, with our exclusive anniversary offer.
All three excursions are available as at one bundle price in all of our Lapland resorts: Levi, Ylläs and Saariselkä, for 2020 departures. See below for terms and conditions.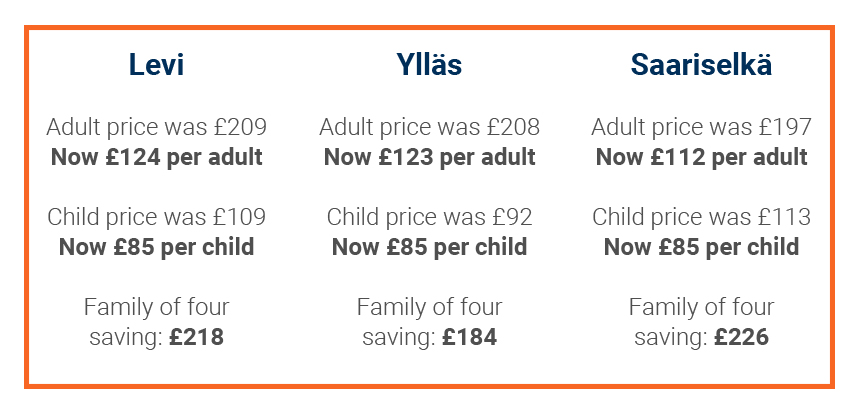 Husky Safari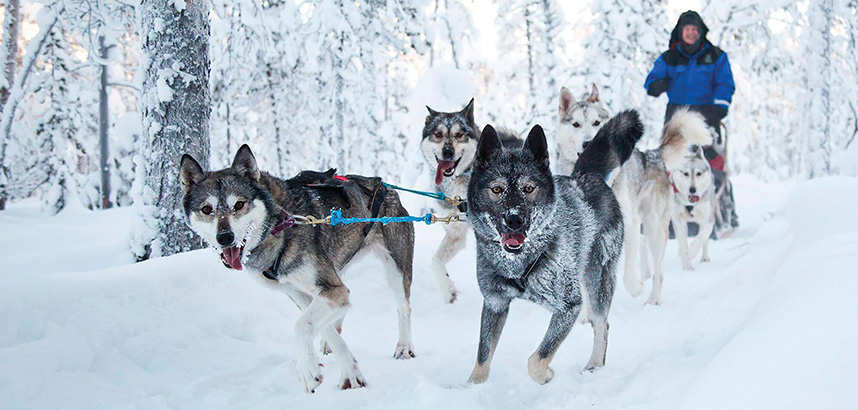 After some essential instruction you and your team of huskies will be on your way. Keeping in line along the trails, speeding through the wilderness and weaving through deep forest in the low winter sun.
All excursions last between 2 and 3.5 hours, depending on location and conditions.
Distances travelled: Levi 8km, Ylläs 10km, Saariselkä 5km.

More information >
Reindeer Safari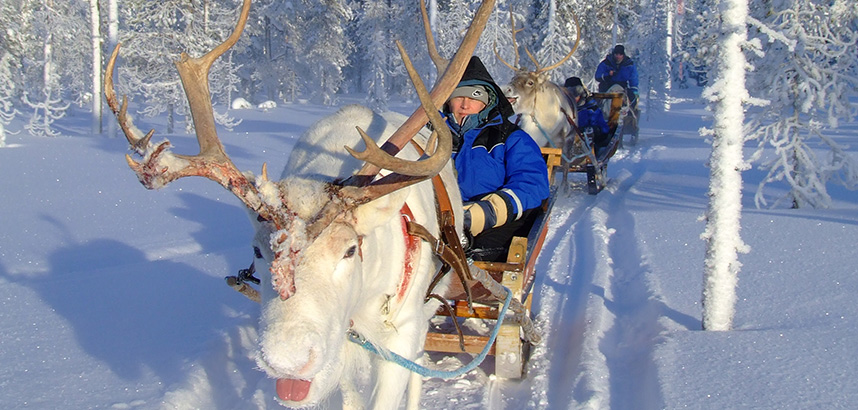 Ride in a reindeer sleigh through the snowy fells and forests, which feels as if you have entered the secret world of Narnia through a magic wardrobe. At least until your reindeer decides to pause for a snack on some tasty lichen under the snow... some do have a stubborn streak.
All excursions last between 2 and 3.5 hours, depending on location and conditions.
Distances travelled:
Levi 3km, Ylläs 1.5km, Saariselkä 450m.More information >
Snowmobile Safari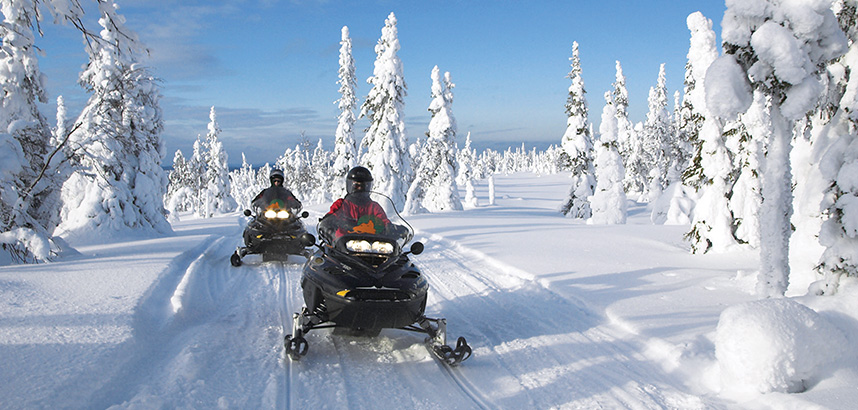 Experience an exhilarating ride through the breathtaking arctic scenery, changing from deep pine forests, fells, moorland, to the wide open expanses of frozen lakes and rivers.
Please note: £85 offer based on two sharing. Single supplement for solo snowmobile is £85.
All excursions last between 2 and 3.5 hours, depending on location and conditions.
Distances travelled: Levi 28km, Ylläs 20-25km, Saariselkä 25km.
More information >
Terms and Conditions: Applies to new bookings made from 14/03/2019 subject to availability, offer ends 31st August 2019. This offer cannot be used in conjunction with any other offer Valid on 7 night holidays to Lapland for January and February 2020 departures during the 2019/2020 ski season. Excludes December dates except 1st December and 8th December departures. Does not apply to existing bookings. Saariselkä bundle £112. Levi bundle £124. Ylläs bundle £123. Excursion descriptions and conditions apply as per brochure and website. Times and distances are approximate and may vary due to weather and other conditions. Snowmobile, Husky and Reindeer Safaris child age is 4-12yrs. Children 0-3yrs are FREE (any transport must be paid for locally) but are not allowed on Super Reindeer, Super Husky or any Snowmobile safaris. Children 4-12yrs book the excursion bundle for £85 when an adult books. Snowmobile drivers must be 18yrs and bring a full, valid photographic driver's licence with them. Children must be 8yrs and over 140cm tall to ride as a passenger on a snowmobile safari. Children under 8yrs or shorter than 140cm will be towed in a sled behind a guide. Travel insurance is a condition of booking with us, and you should ensure that your chosen policy covers the activities that you plan to take part in during your holiday. Your policy should provide cover for your own personal and medical expenses, however individual policies will not cover damage to snowmobiles or skidoos and a compulsory excess will be payable directly to the supplier of the snowmobile/skidoo excursion.. Snowmobiling single driver supplement is available for all resorts at an additional cost of £85 per adult (18yrs+ only). All prices, offers and availability are correct at time of publication and are subject to change.