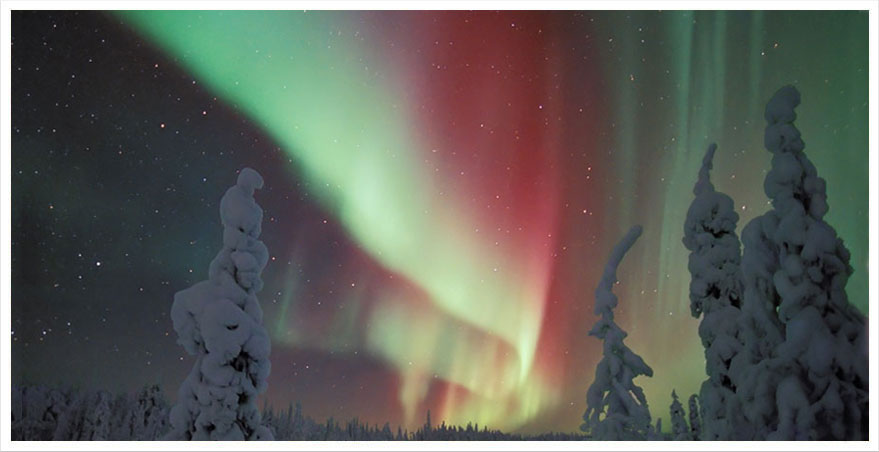 Considered to be one of the natural wonders of the world, the Aurora Borealis or 'Northern Lights' are a mesmerising swirling light show that dance across the night sky. The recent solar maximum predicted by senior NASA scientists heralded the peak of the current solar cycle, producing the best displays of this natural phenomenom for more than a decade, with strong displays set to continue over the next couple of winters.
The Solar Maximum

In June 2014 experts at NASA confirmed the predicted 'solar flip' of the sun's polarity signifying the peak of the current Solar Cycle. Each Solar Cycle lasts about 11 years and the Northern Lights are expected to be at their most active when this cycle begins its gradual decline until the next Solar Maximum in around 2025.
The last two winters produced spectacular sightings involving the full range of colours associated with this natural phenomenon and it is fantastic news for aurora hunters that these mesmerising displays are predicted to continue and only gradually decline to a possible minimum in around 2020. Our advice is if you can't wait until the next Solar Maximum in 2025 then the best time to see them is now.
When and Where
The lights can be seen throughout the winter from November to April and are visible from any of our Lapland resorts which all lie well inland, north of the Arctic Circle at the optimum latitude. They are most commonly seen between 7pm and 2am, when the skies are dark and clear with no clouds. Being well away from any bright lights or other sources of artificial light pollution make the colours stronger.
Local Folklore
The lights play a strong part in ancient folklore. Finnish legend tells how a great arctic fox would run across the snowy fells swishing its tail and creating a mesmerising light show, whipping up sparks as it struck the snow – hence the Finnish name for the lights: 'Revontulet' meaning foxfires. The local indigenous Sami people believed it was the lights from the energies of their ancestors souls flying across the heavens.
Log Cabins
Staying for 7 nights significantly increases your chances of seeing this amazing natural phenomenon. They can be seen if you stay in any of our properties although if you are staying in a hotel you may need to walk a couple of hundred metres away from any bright lights. Staying in a cosy log cabin is ideal.
Glass Igloo overnight stays
The most unique and memorable way of having the best opportunity to see the Northern Lights is to book an overnight stay in a cosy thermal glass igloo and lie in the comfort of your own bed gazing up at the night sky. Glass Igloo overnight stays can be booked in Levi or Saariselka. Guests staying at Muotka Wilderness Lodge as part of our Northern Lights Adventure weeks may also choose to stay a night in one of their well-equipped Aurora Cabins. Aurora Cabin overnight stays are now also available in Saariselkä and Levi.
Excursions to see the Northern Lights
Perhaps the best way for Inghams guests to see the lights is to pre-book a snowmobile safari which can be taken during either the day or in the evening 'In Search of the Northern Lights'. Since they are a naturally occurring phenomenon they cannot be guaranteed but any means of getting out into Lapland's beautiful unspoiled nature and away from artificial light sources when it is dark will give you the best chance of seeing this captivating display. For the more energetic a guided evening snowshoe excursion is another great opportunity, or simply walk around the resort on your own and look up at the sky. In most resorts we also offer an optional evening meal in a fell top café or restaurant.
Northern Lights Holidays
Inghams offers two types of holidays during which you might be able to see the Northern Lights.
7 night Ski and Winter Wonderland holidays
are available in Finland / Lapland in these resorts from December to April:
Levi - In the midst of an unspoilt Arctic wonderland and renowned as one of Finland's best and most extensive ski areas. Ski holidays in Levi >
Saariselka - Located in the north of Lapland close to Russia, Saariselkä has magnificent Arctic wilderness scenery on the doorstep and is an exceptionally friendly uncommercialised resort with a unique frontier atmosphere. Saariselkä skiing is a particularly good choice for beginners and cross country, and visiting Santa too! Ski Holidays in Saariselka >
Yllas - Has stunning unspoiled natural scenery, Finland's longest ski slopes, an excellent network of cross country ski trails and a superb choice of accommodation including idyllic luxury log cabins. The skies this far North are especially clear, ideal for witnessing the magical Northern Lights. Ski Holidays Yllas >
There is a wealth of activities available in all our resorts, including:
Downhill or cross-country skiing
Husky, reindeer or snowmobile safaris
Overnight in a Luxury Glass Igloo
Overnight in a glass igloo, SnowHotel or Icehotel
Visits to Santa and his elves
Icelandic horse-riding
Ice karting and Ice-fishing
Fat-biking
Laser Quest
Wilderness Dinners and Northern Lights excursions by bus
Santa visits in December
- Just click to the resort pages and view the "activities" tab for further information! Levi, Saariselka, Yllas
Northern Lights Adventure Weeks - these adventure weeks are based at the Muotka Wilderness Lodge, located near Saariselka for either 3 nights (combined with 4 nights in Saariselka centre) or the full 7 nights at the lodge. Our prices include several Northern Lights activities to maximise your chances. For itinerary details, please click here
Finally, you don't have to stay 7 nights to witness the Aurora Borealis!
3 or 4 night Santa Breaks in December

Holidays to the Northern Lights can also be combined with a visit to Santa, on one of our short breaks to Levi or Yllas.
With plenty of time to take part in optional excursions and activities such as mentioned above, plus opportunities to meet with Santa in his magical workshop (elves and all!) and have dinner with Santa, you'll be able to experience the magic of Lapland and a northern lights holiday in 3 or 4 nights.
For additional information, you may like to view this video from Visit Finland:
Unbelievable Northern Lights (Aurora Borealis) in Lapland, Finland