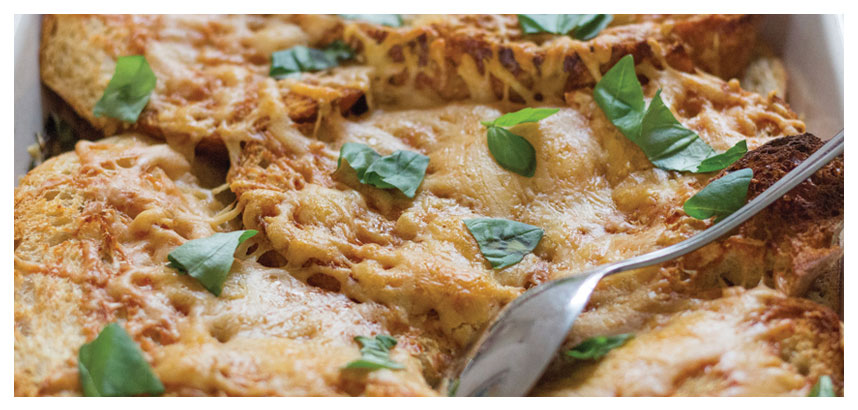 This comforting Sardinian dish was created as a method of making sure nothing in the kitchen went to waste. Popular as both a main dish and a side, zuppa gallurese is the ultimate in thrifty cooking and continues to be popular across Northern Italy.
Tara, the blogger behind Tara's Busy Kitchen, reveals her take on this classic meal, making use of a stale loaf of bread for an authentic finish.
Ingredients
- 250g grated pecorino cheese
- 10 basil leaves
- Splash of olive oil
- 1 stale loaf crusty bread
- 1 litre vegetable stock
- 1 ball sliced mozzarella
- Salt and pepper to taste 
Method
Preheat the oven to 190°C.
Grease a 2-litre oven-proof dish with olive oil. Arrange a layer of bread across the bottom of the dish, and pour over a quarter of the stock and leave to soak.
Prick the bread with a fork and pour over another quarter of the stock. Sprinkle half of the pecorino cheese and half of the mozzarella. Spread the basil leaves evenly across the top of the layer of cheese.
Add another layer of bread and pour over the remaining stock, leaving the bread to soak up the stock for several minutes. Season with salt and pepper, and add the rest of the cheese. Bake in the oven for one hour, or until the bread is crispy.
Serve hot, with fresh salad.
You can download a PDF version of our Foodie Finds recipe book, which includes this recipe and other 'Alpine-Inspired' recipes.