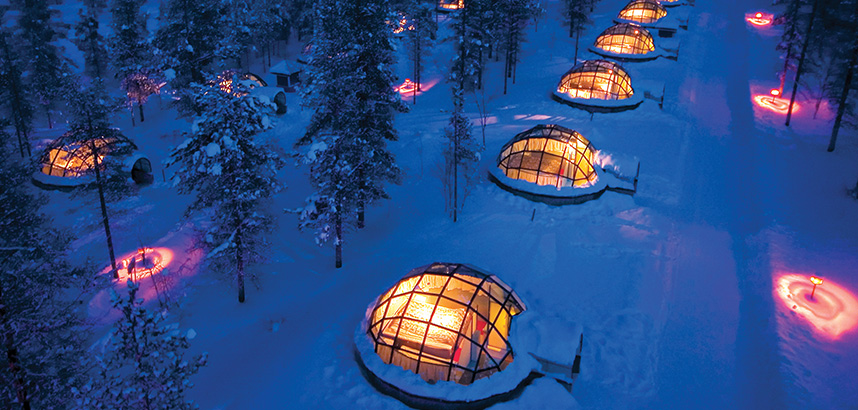 A glass igloo excursion is a must have experience on your Lapland holiday. Imagine falling asleep under the stars, with the Northern Lights dancing on the horizon. And when you wake, the low winter sun fills the morning sky with a deep blue light. Staying in a thermal glass igloo for a night is a truly unique experience only found in Lapland.
The glass igloos are an incredible example of engineering, opening up the beauty and majesty of Lapland's night sky. Thanks to modern technology, we can finally enjoy the stars and the Northern Lights from the comfort of a warm bed, protected from the elements by a thermal glass dome.
The glass is made of a special-make of thermal glass that keeps the inside of the igloo toasty even when the temperature outside drops to a chilly -30c. Inside the glass igloo there is a small living and sleeping space. The bed takes up the centre of the space and from here you can experience a stunning 360-degree view of the heavens and surrounding frozen landscape.
All igloos include a WC, and The Golden Crown Igloos in Levi include a small shower room (discreetly hidden behind frosted glass) and a kitchenette.
We offer our guests in Levi or Saariselkä the opportunity to stay overnight in a glass igloo on a Glass Igloo Excursion. Transfers to and from your hotel are included, and your stay at the glass igloo will either include breakfast or breakfast and your evening meal.
What's Included:
Booking the overnight igloo stay from your resort is easy and includes the following:
- Transfers from your hotel
- Overnight stay in a thermal glass igloo based near your resort
- Breakfast or breakfast and dinner
- Transfers back to your hotel the following morning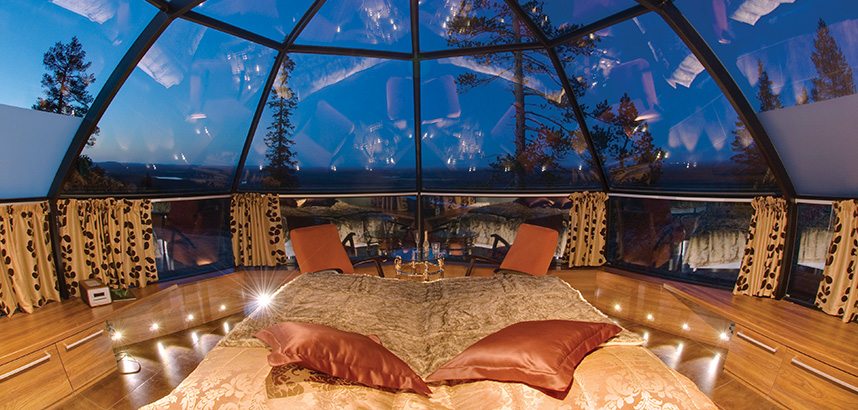 Golden Crown Igloos, Levi
Only available to our Levi guests, a unique and memorable night in a thermal glass igloo is the perfect way to have the best opportunity of seeing the Northern Lights from the comfort of your bed. Now includes a 3-course dinner at the 'Aurora Sky' restaurant at the igloo location.
'Golden Crown' igloos are 10km from Levi in a scenic fell-top location with panoramic views. Continental breakfast, 3-course dinner and transfers from your Levi accommodation are included. All luxury igloos have a motorised double bed with en-suite shower/WC, kitchenette with fridge, and are cosy and warm inside thanks to the special thermal glass. Other amenities include an audio system with bluetooth-connection, free Wi-Fi, hairdryer, bathrobe and slippers. 
NEW Suite Igloos, sleep 1-4. These newly built suite igloos are in prime position on the side of the fell, with the best unobstructed view of the valley and the northern sky. The suites have a lounge and bedroom area, and a terrace with own outdoor jacuzzi. You will also receive a welcome drink and welcome basket. The lounge area has a dining table and sofa bed or sofa chairs, with illuminated Northern lights in the ceiling and a TV screen (maximum 2 adults and 2 children).
Prime Superior Igloos, sleep 1-2. Location is on the second row, behind but above the new igloo suites, either on the side of the fell or forest. There is an unobstructed view of the sky, with extra facilities including a specialty coffee maker and a welcome drink.
Superior Igloos, sleep 1-4. Situated on the side of the fell with an unobstructed view of the sky (maximum 3 adults and no children, or 2 adults and 1-2 children, 3rd / 4th persons sleep in a double sofa-bed)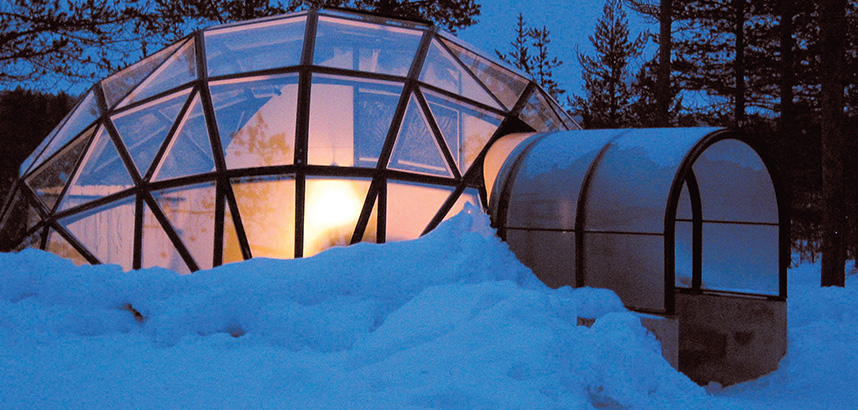 Kakslauttanen Glass Igloo, Saariselkä
Our Saariselkä guests have a choice between two types of Kakslauttanen Igloo.
Small Glass Igloos (1-3 Occ) have comfortable twin beds, extra bed possible, a small ensuite bathroom with toilet and basin, and are cosy and warm inside due to the special thermal glass.
Kelo-Glass Igloos (2-6 Occ) newly-built kelo-glass igloos are log cabins with a glass igloo area attached. Sleeping 2-6 persons, they have 2 single bds in the glass igloo area plus a double bed and bunk beds in the cabin, bathroom with shower/wc, priavte sauna, fireplace (firewood extra) and small kitchenette.
Kakslauttanen Igloo Village is located 15km from Saariselkä, well away from any light pollution. Return transfers to/from Saariselkä, an evening sauna, breakfast and 3-course dinner are all included in our prices.
Along with your igloo stay, it will be compulsory for each person to book one of the following evening Aurora safaris operated by the Kakslauttanen Arctic Resort:
Aurora Hunting by Snowmobile-pulled Sled (3hrs)
Aurora Hunting by Reindeer Sleigh (2hrs)
Aurora Hunting by Horse Sleigh (1½hrs)
Aurora Hunting by Snowmobile (3hrs)
£30 snowmobile single rider supplement
The overnight stay can be pre-booked but the exact day of the week will only be confirmed within 3 working days of booking as all reservations are subject to availability.