Imagine falling asleep under a blanket of stars with the Northern Lights dancing on the horizon, and waking up in the morning to the low winter sun of Lapland filling the sky with a deep blue light. Staying in a thermal glass igloo for a night is a truly unique experience that can only be found in Lapland, and without a doubt, the most memorable experience too.
These glass igloos are unique to Lapland. Unlike anywhere else in the world, it is difficult to fully enjoy the beauty and majesty of the untouched Arctic Circle in Northern Finland at night due to the cold. But thanks to engineering and technology, we can finally view the night sky from the comfort of a warm bed, thanks to the glass roof that keeps out the elements.
Inside the glass igloo there is a small living and sleeping space that sits under a glass dome. The glass is made of special, thick thermal glass that keeps the inside toasty even when the temperature outside drops to a chilly -30c. The bed takes up the centre of the space and from here you can experience a stunning 360-degree view of the heavens and surrounding frozen landscape.
All igloos include a WC, and some (The Golden Crown Igloos) include a small shower room (hidden behind frosted glass for privacy) and kitchenette.
We offer our guests the opportunity to stay in one of these igloos as an excursion for 1 night during their holiday to either Levi or Saariselkä. Transfers to and from your original hotel are included, and your stay at the glass igloo will either come with half board, or breakfast served (see below).
Clarissa, our Inghams Sales Consultant, experienced the fabulous Levi Golden Crown Igloos first hand and had the pleasure of basking in the glow of the Northern Lights during her stay…
What's Included:
Booking the overnight igloo stay from your resort is easy and includes the following:
- Transfers from your chosen resort hotel
- Overnight stay in a thermal glass igloo based near your chosen resort
- Breakfast and/or dinner (See below)
- Transfers back to your chosen resort hotel the following morning
Where to stay:
If you have been enchanted by staying in a glass igloo for the night under the frozen northern sky, then you can book 1 night in the thermal igloos from the following resorts: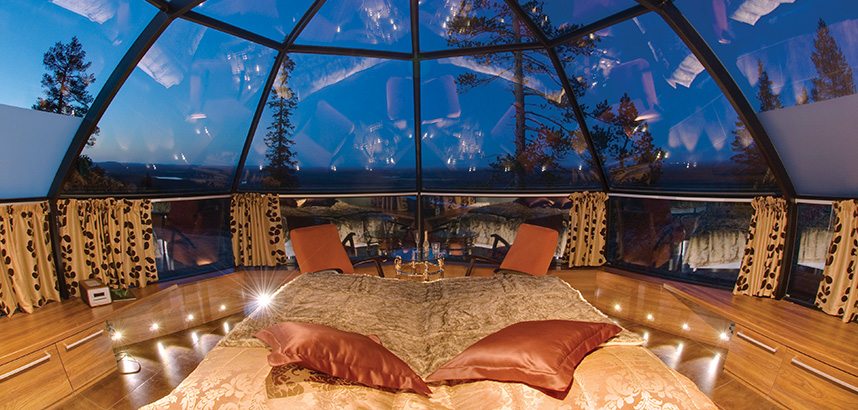 Golden Crown Igloos
Bookable by guests staying in Levi only
All luxury igloos have en suite shower/WC, kitchenette with fridge, and are cosy and warm inside thanks to the special thermal glass. 'Golden Crown' igloos are 10km from Levi in a scenic fell-top location with panoramic views well away from any light pollution. Continental breakfast and transfers from your Levi accommodation are included. For Winter 2017/18, our prices will also include a 3-course dinner at the 'Aurora Sky' restaurant at the igloo location.
Winter 17/18 prices from:
Igloos
Occupancy
2 Persons from

1 Person from

Premium

Sleeps 1-2 (with front row views, robes and slippers)
£409 (high season)
£749 (high season)
£359 (mid season)
£655 (mid season
Superior

sleep 1-4 (maximum 3 adults and no children, or 2 adults and 1-2 children, †3rd/4th person sleep in double sofa bed)
£355 (high season)
£635 (high season)
£305 (mid season)
£539(mid season
†3rd adult on any date: £209. 3rd child (4-12 years) on any date: £119).
2 children price as 3rd and 4th persons on any date: £209 total for 2 children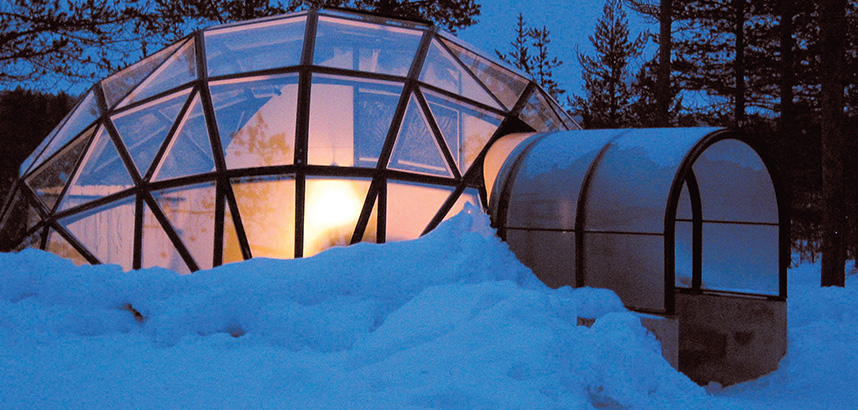 Kakslauttanen Igloo
Igloos sleep 1-2 persons in twin beds (3rd person in extra bed), and have a small en suite bathroom with toilet and basin. Kakslauttanen Igloo Village is located 15km from Saariselkä, well away from any light pollution. Transfer to/ from Saariselkä, evening sauna, breakfast and 3-course dinner are included.
Prices from:
| 2 Occ Adult | 2-3 Occ Child | 3rd Bed Occ Adult | Sole Occ Adult |
| --- | --- | --- | --- |
| £279 (high season) | £189 (high season) | £225 (high season) | £429 (high season) |
| £249 (mid season) | £169 (mid season | £199 (mid season | £370 (mid season |
NB: In High Season, Kakslauttanen only accepts igloo bookings when each person also books one of the following evening safaris, which are operated by Kakalauttanen Igloo Resort:
Aurora hunting by Reindeer Sleigh (2 hours): from £99 Adult/ £49 Child
Aurora Hunting by Horse drawn Seligh (1.5 hours): from £105 Adult/ £55 Child
Aurora Hunting by Snowmobile (3 hours): from £129 Adult/ £65 Child (£30 snowmobile single rider supplement)
(Mid season igloo bookings will be accepted without any safaris).
Please note the exact night and price of all Preview Bookings for 2017/18 will not be confirmed until 1st April 2017.
How to Book
When arranging your Lapland holiday to Levi or Saariselkä with Inghams, you can choose which night of the week you would like to take the glass igloo excursion (subject to availability) as an add-on to your trip.
Book your escape to Lapland now by giving our friendly team a call on 01483 79 11 11
-or-