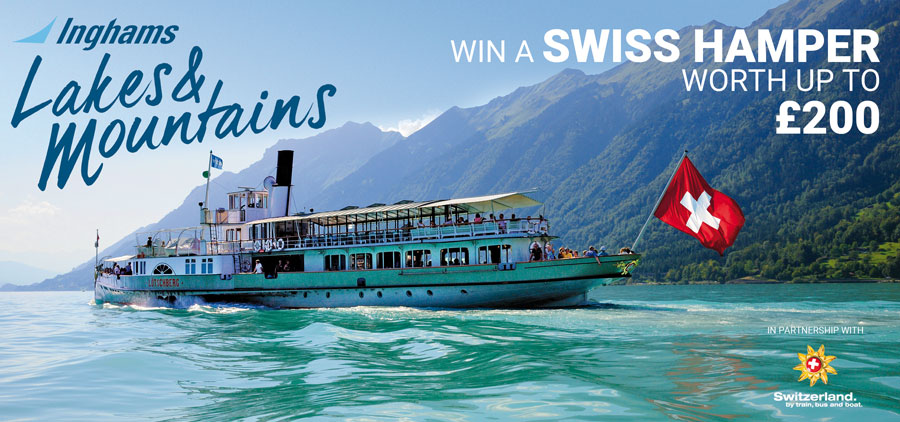 Discover Switzerland in 2019!  
Switzerland is a beautiful country with charming, picturesque towns, bustling cities and car-free mountain villages.  There is so much to see and do in this unique and diverse country.  Let us give you a little taste of Switzerland...
Competition Terms and Conditions
•Entrants into the Competition shall be deemed to have accepted these Terms and Conditions.
•Competition begins 22nd July and ends 30th September 2018
•Entries received after 11.59pm on Sunday 30th September will not be accepted
•Only 1 entry per person is permitted
•Entrants must be 18 years old or over and resident in the UK
•Email and phone number must be provided. Failure to provide correct details will prevent us from contacting you and the prize will be re-drawn
•The winner will be chosen in a random in prize draw held on Monday 1st October 2018
•The prize consists of 1 luxury Swiss hamper worth up to the value of £200
•The prize is non-exchangeable, non-transferable, and is not redeemable for cash or other prizes.
•Inghams accepts no responsibility for any damage, loss, liabilities, injury or disappointment incurred or suffered by you as a result of entering the competition or accepting the prize. Inghams further disclaims liability for any injury or damage to your or any other person's computer relating to or resulting from participation in or downloading any materials in connection with the competition.
•Inghams reserves the right at any time and from time to time to modify or discontinue, temporarily or permanently, this competition with or without prior notice due to reasons outside its control (including, without limitation, in the case of anticipated, suspected or actual fraud). The decision of Inghams in all matters under its control is final and binding and no correspondence will be entered into.
•Inghams shall not be liable for any failure to comply with its obligations where the failure is caused by something outside its reasonable control. Such circumstances shall include, but not be limited to, weather conditions, fire, flood, hurricane, strike, industrial dispute, war, hostilities, political unrest, riots, civil commotion, inevitable accidents, supervening legislation or any other circumstances amounting to force majeure.
•Inghams shall use and take care of any personal information you supply to it as described in its privacy policy, and in accordance with data protection legislation.
•The competition will be governed by English law and entrants to the competition submit to the exclusive jurisdiction of the English courts.
•Employees or agencies of Inghams (Hotelplan UK) or their family members, or anyone else connected with the Prize Draw are not permitted to enter.
•Promoter: Inghams Holidays, Mountain House, Station Road, Surrey, GU7 1EX