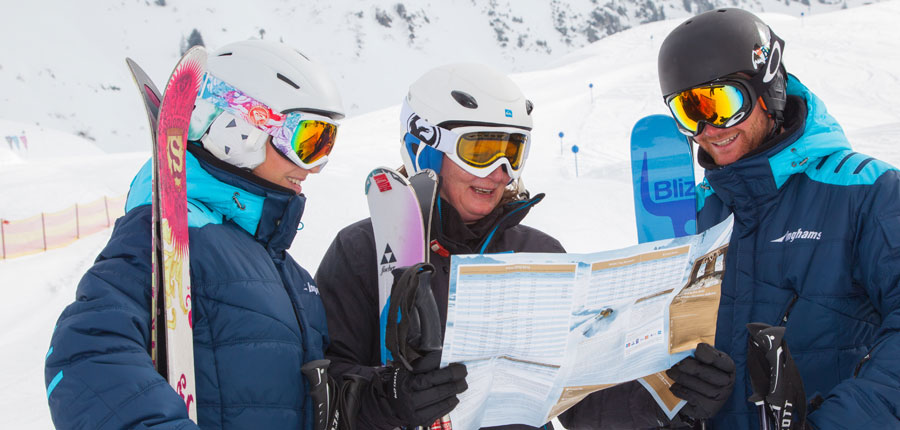 Inghams Meet the Pistes ski hosting service has been described by both our guests and our Reps as one of the highlights of their ski week. Meet the Pistes is a free orientation service offered to all Inghams guests in selected resorts, and is a great way to find your ski legs and meet your fellow guests too!
Join your Inghams Rep on the slopes for a day exploring the mountain, picking up tips along the way on the best runs and mountain restaurants, and how best to plan your ski week. Few people know the resort as well as our Reps. They can't wait to show you the best runs on the mountain and the best places for lunch or well-deserved drink!
Skiing Requirements
To join our Meet the Pistes ski hosting sessions, all we ask is that you can ski red runs confidently, but you do not need to be an 'advanced' skier. No instruction is given - that is strictly for the local ski school - but this is a great way to get a knowledgeable overview of the area, meet your Rep and fellow guests, and enjoy a great ski day out!
Where can you Meet the Pistes?
Our Meet the Pistes Services is available in resorts with an Inghams rep in Switzerland, Italy, Andorra and most of Austria with the full details being supplied on arrival from your resort Rep. In Canada a local ski host will offer a similar service.
Check our resort pages to see Meet the Pistes availability in your resort!
Can't find the information you're looking. Have a look at our FAQs where we've even more information on ski lessons.
Please note: your ski extras are bound by Inghams terms and conditions. The ski extra service is provided by a third party supplier and does not form part of your holiday package.