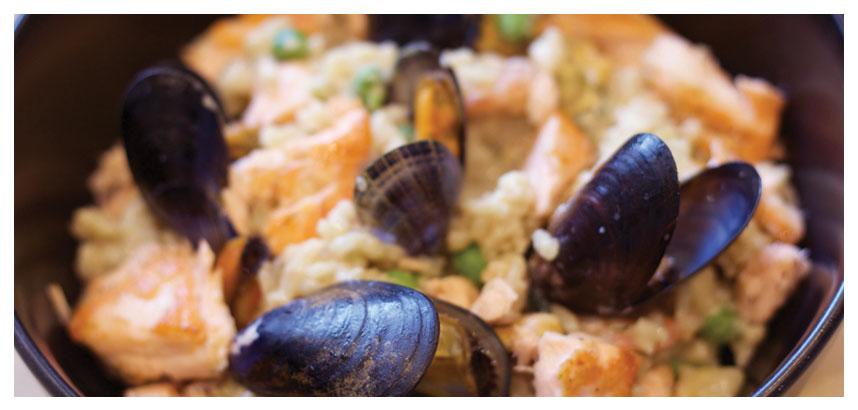 Like many classic Italian dishes, risotto has gained a universal popularity thanks to its rich taste and versatility. The rice became popularised in Northern Italy in the Middle Ages, but the dish we know as risotto today was first created in Milan, and was called risotto alla Milanese.
Sunna, the Inspired in the City lifestyle blogger, spent a holiday in the Amalfi Coast and enjoyed a southern spin on this classic rice dish. Here, she's used seafood to reflect the fresh catches that are so popular with travellers across the coastal Italian regions.
Ingredients
- 2 white onions, diced
- 2 cloves chopped garlic
- 350g risotto rice
- 1 litre fish stock
- 200ml white wine
- Juice of ½ lemon
- 70g crème fraiche
- 25g butter
- Handful chopped dill
- 4 salmon fillets
- 70g grated parmesan cheese
- 9 chopped asparagus stalks
- 150g cooked prawns
- 150g peas
- 1 packet cooked mussels
Method
Heat 2 tablespoons of oil in a large pan, and fry the onions and garlic on a low heat until they begin to brown. Stir the rice in the mixture, until it's fully coated. Pour the wine into the rice mixture and bring to the boil, then immediately reduce to simmer for one minute.
Add a ladle of the fish stock and stir until the liquid is absorbed. Continue this method until you've used all the stock. Once the rice is fluffy (it should take around 20–30 minutes), stir in the butter, crème fraiche, dill and parmesan, and season with salt and pepper to taste.
Meanwhile, boil the asparagus and peas in separate saucepans until tender. Season the salmon steaks with salt and pepper, heat a tablespoon of oil in a large pan and fry the salmon for 4–5 minutes, or until cooked through.
Heat the prawns and mussels in either the microwave or a pan, until heated thoroughly. Add everything to the cooked risotto and stir through, saving a few mussels in their shells to scatter on top.
You can download a PDF version of our Foodie Finds recipe book, which includes this recipe and other 'Alpine-Inspired' recipes.