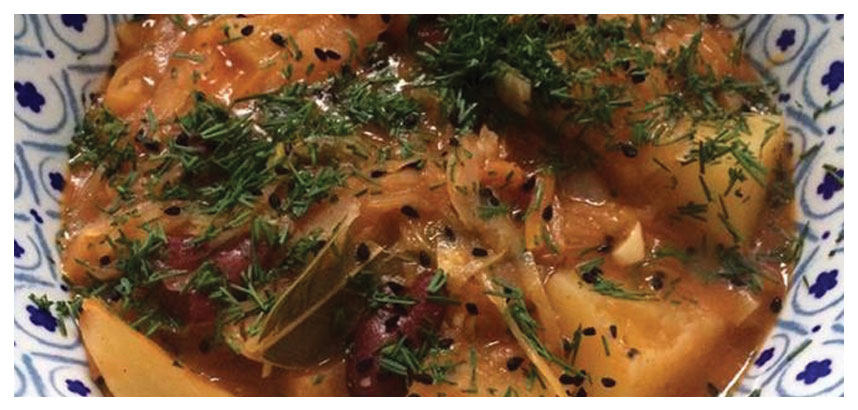 A hearty, filling stew, jota – which is also known as Istrian stew – is a staple meal in Slovenia, and is also popular in Croatia and North Eastern Italy. The ingredients are interchangeable, but the classic dish features beans, potatoes, sour turnip, bacon, and spare ribs.
This meaty dish has been given a vegetarian spin by food blogger Louella of Bean Kitchen. She replaces the smoky bacon flavour with paprika, creating a dish that can be enjoyed by everyone.
Ingredients
- 350g potatoes, peeled and cut into 2cm chunks
- 3 small turnips, peeled and cut into 2cm chunks
- 400g sauerkraut, drained and rinsed
- 1 white onion, finely chopped
- 5 garlic cloves, finely chopped
- 2 bay leaves
- 1 tsp caraway seeds
- 2 tsp sweet smoked paprika
- 1 tbsp. plain flour
- 4 tbsp. passata
- 750ml vegetable stock
- 2 tbsp. olive oil
- Fresh dill
Method
Heat the oil in a large saucepan over a medium heat. Add the onions and cook for around 10 minutes, until they become translucent. Add the flour and stir continuously until incorporated, then add the passata and stir until it's turned into a thick paste.
Add the paprika and vegetable stock, stirring to combine and reduce the heat to a simmer.
While the base of the stew is simmering, heat oil in a large frying pan and add the garlic, caraway seeds, potato, sauerkraut and turnip, frying for 5 minutes until the garlic is fragrant.
Tip the contents of the frying pan into the base of the stew, and stir to combine. Put a lid on the saucepan and cook for 30 minutes.
Remove the lid and add kidney beans, allowing the stew to cook for a further 15 minutes, adding a little water if the sauce becomes too thick.
Once cooked, season with salt and pepper, and serve with a dollop of sour cream and crusty buttered bread.
You can download a PDF version of our Foodie Finds recipe book, which includes this recipe and other 'Alpine-Inspired' recipes.