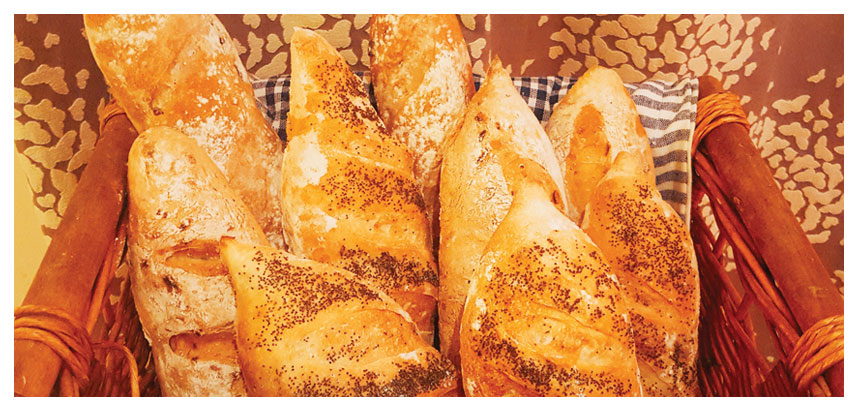 Baguettes are as French as the Eiffel Tower, but the long loaf as we know it today has been something of a modern invention. When a law passed in the 1920s decreeing that no one could be made to work before 4am, the baguettes long, thin shape was utilised as they bake quickly enough to be ready in time for breakfast.
Jamie, of Jamie's Cookery, used his knowledge from a French baking course to share his favourite baguette recipe, which includes tips and tricks for creating a flavoured loaf.
Ingredients
- 500g strong white bread flour
- 7g fast action yeast
- 7g salt
- 360ml warm water
Additional flavour ideas
- 75g onion, garlic and poppy seeds
- 75g dried cranberries and walnuts
- 75g cheese and chives 
Method
Pour the flour into a large bowl, and make a well in the centre. Add and blend the salt and yeast.
Add the water and mix slowly using a spoon, a scraper or your hands. When the mixture becomes very thick, tip it onto your work surface, and begin folding the dough. It will be sticky for a while, but after ten minutes of folding and kneading, it should become smooth. If you are adding flavours, knead them into the dough at this point.
Place the dough back into a large bowl and cover with cling film. Leave the dough to rest for one hour.
Flour the surface and remove the dough from the bowl. Gently shape the dough into a loaf, being careful not to flatten it too much. Cut the dough into four or five, and roll them until they are the size you like.
Place each piece onto a baking tray lined with baking paper. Put the tray in a plastic bag and prove for an hour. Preheat your oven to 220°C.
Once they have proved, remove from the bag, and slash the tops with a knife to recreate the classic baguette top. Spray them with water and bake them in the oven for 20–25 minutes, or until they are golden brown.
Leave them to cool before eating.
You can download a PDF version of our Foodie Finds recipe book, which includes this recipe and other 'Alpine-Inspired' recipes.