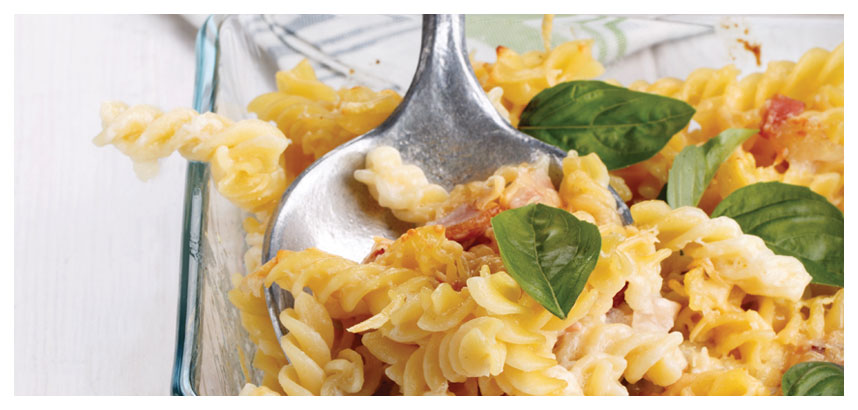 Originating in Southern Italy, fusilli is a highly versatile pasta which can be served with a variety of sauces but is particularly suited to pasta salads. Fusilli is popularly coloured and flavoured with spinach, beetroot or fish ink.
Sam, the food blogger from Smart Cookie Sam, took inspiration from her travels around Venice, Lake Garda, Lake Como and the Italian Alps for a nutty, creamy, and smoky spin on this pasta dish.
Ingredients
- 200g fusilli
- 125g gorgonzola
- 100g walnut halves
- 50g butter
- 150ml single cream
- 1 packet cubed pancetta 
Method
Preheat the oven to 180°C.
Dry fry the pancetta in a frying pan, and boil the fusilli in a saucepan until al dente.
Once the pancetta is crisp, remove from the pan and place to one side. Lay the walnuts on a baking tray and toast in the oven for 5–8 minutes, regularly checking to ensure they don't burn.
Melt the butter in the frying pan, and then add the gorgonzola. When fully melted, stir in the pancetta and walnuts. Drain the pasta, toss in the sauce, and serve immediately.
You can download a PDF version of our Foodie Finds recipe book, which includes this recipe and other 'Alpine-Inspired' recipes.